6th Class win all Ireland Something Fishy Competition!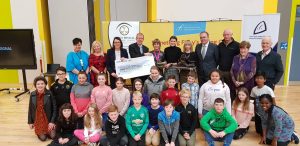 6th Class at Letterkenny Educate together National School pictured with Joe McHugh, Minister for Education and Skills after receiving their award and cheque for winning the 2018 Inland Fisheries National Something Fishy competition.
In 2017/18 5th Class at Letterkenny Educate Together National School took part in the Something Fishy Project.
Something Fishy is an Educational Programme, aimed at Primary school pupils aged between 10-13 years, which informs and educates students on fish, water, angling, and the environment and angling.
The programme was a concept originally developed in collaboration with the Central Fisheries Board (CFB) and Blackrock Education Centre (BEC). This team created lesson plans and activity sheets based on the theme of the 'Life cycle of salmon' – Bradán. It has since been developed, with web based resources and new lesson plans now available.
The competition is an annual educational initiative of Inland Fisheries Ireland, in partnership with Blackrock Education Centre, which allows students to learn about fish and the environment in a local context. The current 6th class at Letterkenny Educate Together National School entered the competition in 2017 under the guidance of their class teacher Nakita Burke. The theme of the project was Focus on Learning – What did you learn from the Something Fishy Project?
We were delighted to hear that after a year of hard work and learning our project won First place in the National Something Fishy Competition 2018.
Information on Our Project
After much discussion and research we decided to create an educational website all about fish, the effects of pollution on fish life, and how we can Save Our Schools of fish from pollution and extinction. We had so many ideas and had already created many mini-projects through different medium that a platform where we could include all our work and share it with others seemed like the perfect solution.
"Our aim is to teach our peers and others all about what we have learned and how we can all help in saving our schools of fish from extinction. We hope you enjoy learning all about fish like we did!"
Here is the website we created:
https://sites.google.com/a/letterkennyetns.ie/sos/
Thanks to Owen Kelly & his team at Inland Fisheries & The Donegal Education Centre for their support with this initiative.