Our school was awarded the Active School Flag in June 2013. An Active School is a school that strives to achieve a physically educated and physically active school community.
This year we are working towards renewing our flag. The 6th class wrote an 'Active school' song to the air of 'Stitches' by Shawn Mendes.
Listen to the the children singing 'FIT' by LETNS during assembly.

Letterkenny Educate Together Sports Council 2018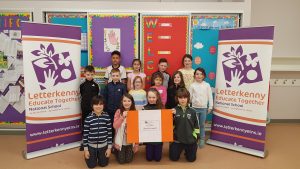 We are the Sports Council at Letterkenny Educate Together National School and we represent our school in all things sporty. We have been very busy this year spreading our Active School message.  We did a presentation in February 2018 for our whole school during assembly to tell all the children and adults in our school what we are doing to help make our school an Active School.  We were nervous but enjoyed the experience and we answered lots of questions from children in the audience.
We wrote sports articles for our local paper to let the public know how we are being active in our school. We wrote about all the people from the community who came to our school to teach us how to keep our bodies fit and healthy by exercising and eating healthily.
Active School Flag
Our school has been working hard for a number of years towards our second Active Flag.  We are very excited to have made so much progress to date in this area!  There are so many benefits that come with being active; the obvious health benefits, increased self-esteem, greater concentration levels, along with the development of teamwork skills!
Our Sports Council have been working hard gathering information about all the active clubs that our school's children are involved in outside of school.  At the moment, 32% of the children in LETNS are involved in clubs.  Well done!! We will continue to provide opportunities to be active in school along with in their weekly homework.  We would love to encourage a greater population of the school to be active outside of school hours.  Under the 'Active School Flag' heading on our school website, there are many links to clubs that may be of interest to your child.
There is a new physical literacy programme being introduced to all schools across Ireland.  Recently, staff members attended a course and were shown a video entitled '5 More Years'.  It makes an interesting watch and really highlights the need for us, as a school community, to try and be more active. Click on the image below to watch this moving video.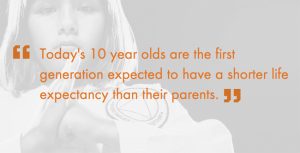 If any parents have ideas or would like to get involved in fostering 'Being Active' in our school we would love to hear from you.  Maybe you might have an interest in a particular sport and would be willing to share some of your knowledge! As always, thank you for all your continued support.
The LETNS Active School Council
Physical Education
The Physical Education curriculum allows for an hour of physical activity each week for each class. We teach all 6 strands each year: Athletics; Dance; Gymnastics; Games; Outdoor and adventure activities; and Aquatics.
Physical Activity
As well as teaching Physical Education lessons in LETNS we strive to encourage physical activity throughout the day. Ideas vary from year to year but we have had 'a scoot to school day', 'walk on Wednesday', Dancing, playground soccer and we successfully completed a 6 week Operation Transformation programme in 2018.
We take regular activity breaks: K A Day and Wake Up/Shake Up.
We have active lines. We keep busy when we are lining up and do a variety of excercises such as star jumps, high knees, running on the spot etc…
We have special days that focus on encouraging activity.
We encourage staff and pupils take an active approach to all aspects of their day.
Our staff have a walking / running group.
Partnerships
We encourage our students at LETNS to get involved in activities outside of school. Involvement in a local club is most likely to encourage lifelong participation in a sport or activity. Basketball, table tennis, swimming, GAA, Creative Dance and Athletics are amongst the options locally and our students get a taste for these activities in their PE lessons and during Get Active Week. This variety of activities allows each child to find something active that suits them and their personal interests! See below a list of sports clubs in our locality.
Letterkenny Rovers
Naomh Adhamhan CLG
Active School Week
Every year we have an active schools week – including lots of activities throughout the week and a whole day dedicated to sports and fun!
get active week timetable We hope to have the same in 2018.