LETNS takes the forest pledge!
The forest pledge is a special promise to always do your best to be a lifelong friend of the environment. Last week, Jan kindly helped 3rd class to plant a Guelder-rose tree sapling, which was kindly donated by the Tree Council of Ireland, as part of National Tree Day celebrations!
Well Done 5th class!!!
A big congratulations to 5th class who made a fantastic effort during the Big Travel Challenge! The Green team collected all travel trackers last week to see which classes had tried to use park'n'stride as much as possible for 10 days. Despite two snow days and school closures happening during our 10 day challenge, the children remained as motivated as ever and tried their best! A big thank you also to our parents who always show support in helping us stay green!! Maith sibh!
The big travel challenge 2018
Hi everyone,
A huge well done to all the families in our school community who have been making a fantastic effort with sustainable travel to school each week. The weather hasn't been on our side so far this term but all your hard work has not gone unnoticed!
LETNS will be taking part in the BIG TRAVEL challenge over the next 10 days. This challenge aims to promote and increase a mode of sustainable travel during the month of February.
We are taking on the challenge of achieving an increase in the use of Park' n' Stride in our school community.
Park' n' Stride encourages parking in a nearby area and walking the rest of the way to school.
The green team will also be busy over the next 10 days tracking how many students in our school have traveled using Park' n' Stride. They will them complete and send off an application to enter the BIG TRAVEL challenge competition.
By supporting Park'n'Stride, you and your children will be playing a part in alleviating traffic congestion outside the school gate, which in turn will help to make trips to and from school safer for everyone.
Join us for the BIG TRAVEL challenge and help our school win!!
Kind regards,
Barbara
Golden Boot winners!!
Well done to all classes who have been making a fantastic effort with choosing sustainable modes of travel to school! Our golden boot is awarded at assembly on Friday mornings!We are so proud of you!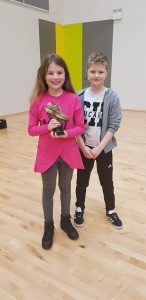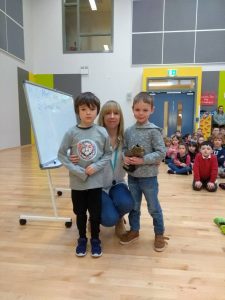 Upcoming action travel days- Term 2
We will be holding our action travels days on Wednesdays as part of our ongoing participation in the Travel flag programme. Here is a quick overview of days planned so far:
WOW- Walk on Wednesday- 24th January
SOW- Scoot on Wednesday- 31st January
COW- Cycle on Wednesday- 7th February
THE BIG TRAVEL  CHALLENGE- beginning 21st February – ending 6th March
National Walk to School Week 2016
Hi all,
We are still working hard towards gaining our next green flag!
This year National Walk to School Week will be running from 16th– 20th May 2016.
We would like to encourage pupils, parents and teachers to walk to school wherever possible during this week.
We will be holding a National WOW day- Walk on Wednesday on the 18th of May.
Park' n' Stride is also a great way to get involved in this event. Park' n' Stride encourages parking in a nearby carpark and walking to school. Our two designated car parks are Arena 7 and Aldi (Ramelton Road).
Walking to school benefits children in the following ways:
Walking is known to improve academic performance.
Walking gives children good life experience.
Walking gets children outdoors.
Walking provides daily exercise for children.
Join in Green-Schools' National WOW day on Wednesday 18th May 2016 and help reach the target of 20,000 people walking to school all over Ireland!
Kind regards,
Barbara and Mairéad
What is the Green School programme?
Green-Schools, known internationally as Eco-Schools, is an international environmental education programme, environmental management system and award scheme that promotes and acknowledges long-term, whole school action for the environment.
Unlike a once-off project, it is a long-term programme that introduces participants (students, teachers, parents and the wider community) to the concept of an environmental management system.
However, Green-Schools is far more than just an environmental management system. It fosters a strong sense of citizenship and leadership among participants that spreads far outside the school into the wider community. It also promotes a strong sense of teamwork among teachers, students and the wider community to reach a common high level goal. It flattens and democratises school management structures. It brings children into the decision-making process and makes them responsible for their decision and actions. In fact it could be best described as being 'more than the sum of its parts'.
The aim of Green-Schools is to increase students' and participant awareness of environmental issues through classroom studies and to transfer this knowledge into positive environmental action in the school and also in the wider community. Schools that have successfully completed all the elements of the programme are awarded the 'Green-Flag'. This award has now become a well-recognised Eco-Label. The award has to be renewed every two years.
One of the key success factors of the Green-Schools programme is that it is a themed programme. That is, schools undertaking the programme work through the seven steps one theme at a time. The themes in sequence are:
1. Litter & Waste
2. Energy
3. Water
4. Travel
5. Biodiversity
6. Global Citizenship – Litter & Waste
7. Global Citizenship – Energy
Our school is currently working towards the 'Travel' flag..For more information see below: